Healthy Pizza Vegetables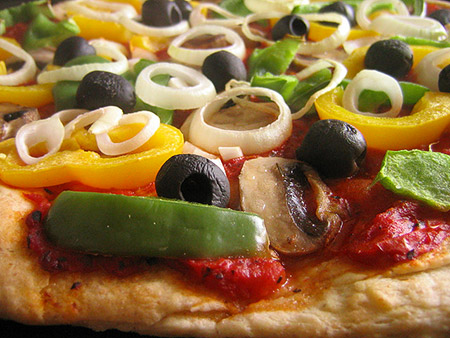 If you are trying to live a healthier lifestyle, you might have cut a lot of foods out of your diet. And you've likely found out that the more you cut something out, the more you crave it. For many, pizza is that one thing that they just can't let go. The good news is that you don't have to. With a whole grain thin crust (this is one of the good carbs you body actually needs!) and the right toppings, pizza can actually be healthy!
One of the most important ingredients on pizza is tomato sauce but if you put tomatoes on the pizza as well, you can be well on your way to a great healthy pizza. Tomatoes are full of lycopene, Vitamin A, Vitamin C, chromium and more.
What else can you put on pizza to make it taste good and be a treat that you can enjoy more often, without the guilt?
Black olives – Unsaturated fats help lower cholesterol and heart disease and aid in digesting other nutrients; black olives also contain flavanoids and polyphenols.
Garlic – Not only will you add some great flavor but it has no calories worth mentioning and has health benefits like prevention of some cancers, heart disease, colds, and hypertension.
Mushrooms – They have great texture and they are filled with riboflavin, selenium and other nutrients that have been known to fight cancer.
Peppers – There is so much choice with peppers! Red, green, yellow, or even hot (Jalapeno) – these vegetables contain nutrients like various B Vitamins, Vitamins A and C, and many antioxidants.
Pineapple – This favorite topping of many pizza lovers is filled with bromelain, which is a natural anti-inflammatory and will aid your digestion! Of course, it also has Vitamin C so you win all the way with this topping.
Onion
Fresh Tomato
Sun Dried Tomatoes
Eggplant
Broccoli
Spinach
Sweetcorn