Fontina
Fontina is a stringy cheese obtained from whole cow's milk from a single milking. Each cheese has a diameter of 11.8″-17.7″ (30-45 cm) and a height of about 2.8″ (7 cm). Its weight varies from 17.6 to 26.4 lbs (8-12kg). The rind is dark brown with ageing. The paste is soft, either white or colored a light straw yellow, with minute round holes. Its taste is sweet, pleasant and delicate, more pronounced and tart in the aged version.
This is a nutritious cheese, rich in proteins, and may easily be used as a substitute for meat; 3.5 oz. contain 350 calories. In fact 10 liters of whole milk are necessary to produce one kilo of cheese.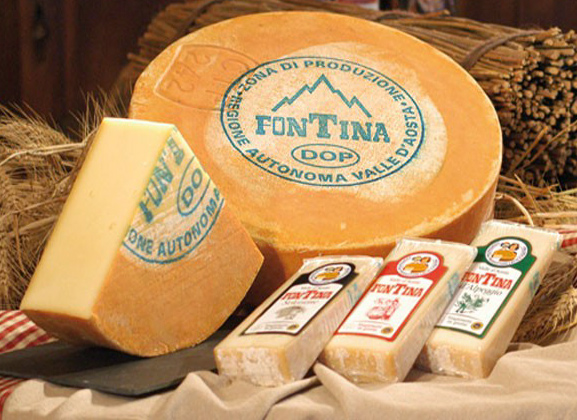 Fontina is utilized raw as well as in a great number of recipes: fondue "alla Valdostana," with traditional polenta or gnocchi, as a filling in meat bundles, or in cheese pies. It is also very good grilled and eaten with rustic bread. Fontina transforms every dish as unique and substantial. They can be simple toasts or rice-salads, or elaborate soufflés, Valdostana steaks, pasta au gratin and risotti.
The Fontina cheese is produced only in Aosta Valley, where, owing to the natural barrier of the Alps, the summer climate is dry: this allows the growth of a rich mountain flora, made up of precious botanic essences. Fontina is made of a milk rich of vitamins, natural flavourings without adding or taking away anything. Taste a slice of Fontina and you'll enjoy the best of Aosta Valley. The Fontina is a DOP cheese: it means that it has the Denomination of Protected Origin in all the European Union. The preparation of this cheese is a receipt that has been transmitted in the centuries. It is exclusively producted with whole, not pasteurized milk, of bovines of Aosta Valley race.
History
The name "Fontina" refers to a place mentioned in a Latin text in the year 1270. It also refers to one of the cheese's main characteristics: when placed near a source of heat, it quickly melts and forms filaments. The ancestor of Fontina is a cheese already known in the 1300s by the name of "seras." This cheese, due to its careful production and the goodness of its milk, was much appreciated by the local gentry.
The history of the Fontina cheese is the history of Aosta Valley. If you visit the medieval castles of this region, look at the frescos of Issogne. Among ladies, knights and warriors, you will see a medieval stand for the sale of cheese where the typical shapes of Fontina are easily recognizable. It's the sign of a tradition or, better, an art that in this land has been going on for seven centuries and gave taste to generations of people living in the Aosta Valley.
In 1717 the word "Fontine" appears for the first time in the expenses register of the Gran San Bernardo Hospital. The same name can be found in a document of 1731, written by the Earl De Challant, member of the noblest and celebrated dinasty of Aosta Valley.
It's a word full of history, a name that guarantees at a European level the respect of strict production rules and allows to mantain both the specific characters and the organolectical qualities of the product and the secular tradition from which it comes.
Production
Only the best milk from "Valdostana" cows may be used. The milk is filtered through various layers of wadding and silk cloths, and then heated over a wood flame in copper cauldrons until it reaches 97 °F (36 °C), when calf's rennet is added. After about 40 minutes, curds begin to form, which are broken into miniscule pieces with wooden utensils. The mixture is brought to 122 °F (50 °C), then taken off the flame and left to settle. The paste thus obtained is poured, still steaming, in molds which are kept under pressure in order to eliminate any remaining whey. The cheese is then removed to a cool place where it remains for two months and where, once dry, it is salted with fine salt.
After the requisite two months, the cheese is brought to the mountains to age, at a minimum altitude of 3,280 feet, in either caves or subterranean tunnels, for at least three months. Before sale, each cheese is marked with an emblem, consisting of a circle containing Monte Cervino, and the emblem "Consorzio Produttori Fontina" which guarantees the cheese's quality and authenticity.
Fontina is produced exclusively in the Val d'Aosta. The cheese obtained "Dop" – Denomination of Protected Origin (DOC – Denominazione di Origine Controllata) designation in 1955. A cheese similar to Fontina, called "Fontal," is produced exclusively in the Trentino region.
Storage
The cheese keeps in the refrigerator for 8-10 days. It may also be frozen and consumed directly after defrosting.