Yeasted Blini with Caviar
Yeasted blini with caviar and crème fraîche are sort of buck wheat pancakes. It is a good party appetizer.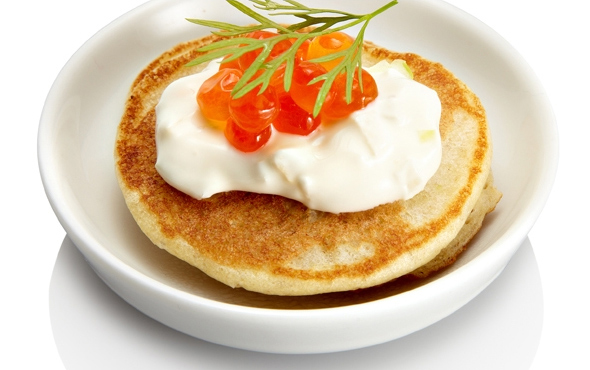 Ingredients:
125 g

wheat flour

125 g

buck wheat flour

250 ml

tepid milk

2

eggs (separated)

2 dsp.

sour cream

1 tsp.

salt

150 g

soft butter

1 pinch

sugar

½ cube

fresh yeast (approx. 20 g)

2

onions

300 g

crème fraîche

6 dsp.

Keta caviar
dill for garnishing
Preparation method:
Put both flour sorts, milk, egg yolks, sour cream, salt and half of the butter into the mixing bowl, then sprinkle on the sugar and crumble the yeast over this. With the whisk mix everything to smooth dough. Cover and leave to rise in a warm place for approx. 45 min.
Then clean the bowl thoroughly and whisk the egg whites at the highest setting until stiff. Fold carefully into the risen dough.
Heat a little butter in a pan. Place approx. 1½ dsp. dough in the pan for each pancake. Fry the small, thick pancakes at medium heat until golden brown on both sides. Continue until approx. 20 pancakes have been made.
Meanwhile peel the onions and cut them up using the fine side of the reversible grating disc. Mix them with the crème fraîche and serve with the blinis, together with the caviar. Garnish with dill.
Tip: Buck wheat pancakes also taste good with crème fraîche seasoned with herbs. This variant is of course a little cheaper.