Tomato Focaccia
Try this italian bread – Focaccia pomodorini.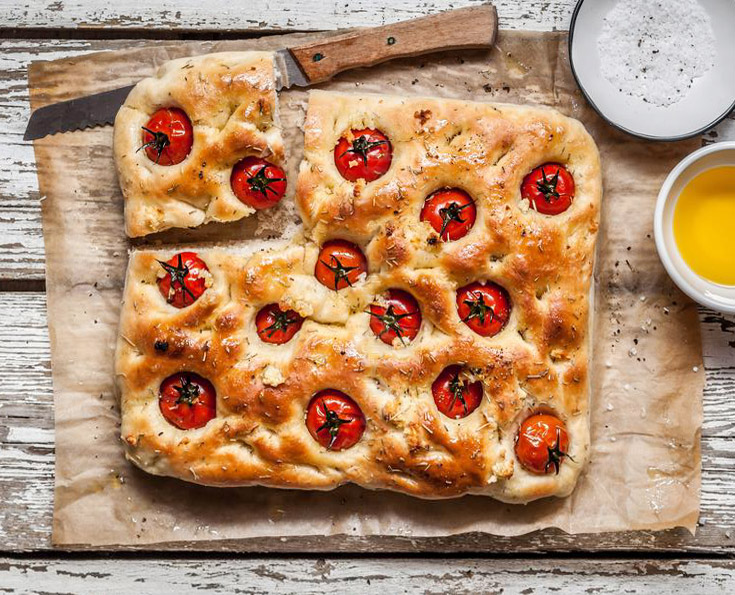 Makes 1x 30cm/12 inch bread
Ingredients:
15g/½oz

active dry yeast

180ml/6fl.oz

warm water

350g/12oz

plain flour

1 teasp

salt

10-15

fresh cherry tomatoes, halved

6

large fresh basil leaves, shredded

6 tbsp

olive oil
coarse sea salt
rosemary, garlic – optional
Instructions:
In a small bowl dissolve the yeast in 120ml/4fl.oz. of the warm water, and set aside for 10 minutes until frothy.
In a large mixing bowl, combine the flour, salt, yeast mixture and remaining water and mix thoroughly with a wooden spoon.
Bring the dough together with your hands then transfer to a floured work surface and knead well for a few minutes until smooth and elastic.
Place in a well oiled bowl, cover with clingfilm, and place in a warm place for about 1-1,5 hours or until doubled in size.
Preheat the oven to 220°C, 425°F, Gas Mark 7 and lightly oil a baking tray.
Turn the dough onto a floured surface, punch down and knead for a few minutes.
Place the dough on the oiled baking sheet, pulling it into an oval or circle.
Dimple the top surface with your finger tips or knuckles, then space the tomato halves across the surface and sprinkle the shredded basil leaves or rosemary or garlic over the top.
Drizzle with the oil and sprinkle generously with coarse sea salt. Bake for about 20 minutes or until golden. Serve warm or at room temperature.