Tangy Mushroom Garlic Sauce
Tangy mushroom garlic sauce recipe is very easy to make. It is popular both in the Northern and Southern Italiy. Original Italian name: Salsa di funghi.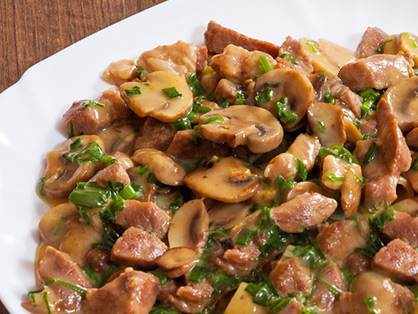 I love making this sauce, especially in Autumn when many kinds of mushrooms are available. For Tangy mushroom garlic sauce you can buy Swiss mushrooms, Portobello mushrooms or just any edible wild mushrooms. It is very important to add wine, lemon juice and herbs preparing mushrooms initially because that will sharpen and emphasize its taste. As a result of using a Worcestershire sauce and white wine for making this mushroom sauce, it becomes saturated with perfect and gentle lemon flavour. Instead of the Worcester sauce you can take simple red wine vinegar, lemon juice, brown sugar, garlic, pepper and salt. I would personally prefer to get creamy mushroom sauce and I usually add 1/2 cup of light cream together with wine, stock and the Worcester sauce.
This mushroom sauce is wonderful served with pasta, tossed with tagliatelle, farfalle or rigati. This sauce can be be added to other meal varieties as chicken fillets, beef of veal steaks.
Preparation time: 15 minutes,
Cooking time: 20 minutes,
Serves: 4.
Ingredients for sauce:
100g

of butter,

4

green shallots, cut into thin rings, green and white parts,

2 cloves

of garlic, chopped,

400g

of fresh Portobello or Swiss mushrooms, thinly sliced,

½ cup

of dry white wine,

1 cup

of chicken stock,

2 teaspoons

of Worcestershire sauce,

1 tablespoon

of cornflour,

1 tablespoon

of water (for cornflour mix),

2 tablespoon

of fresh chives, finally chopped for garnish.
Ingredients for pasta:
400 g

tagliatelle, farfalle or rigati pasta.
Method
Melt butter in a large saucepan, add shallots, garlic and mushroom. Cook and stir until mushrooms are soft, for about 10 minutes. Mushrooms should stay firm and not overcooked and mushy.
Add wine, chicken stock, Worcester sauce and cornflour to the pan. Stir the ingredients together and increase the heat to high simmer.
Continue to cook and stir until the sauce thickens. If it does not after a few minutes, increase the heat slightly and mix a little more cornflour with cold water (until milk consistency) and stir into sauce.
Meanwhile, cook pasta until al dente. Drain thoroughly and tip into a warmed large bowl.
Pour over the sauce and toss to combine. Garnish with chives and serve at once.