Stuffed Tomatoes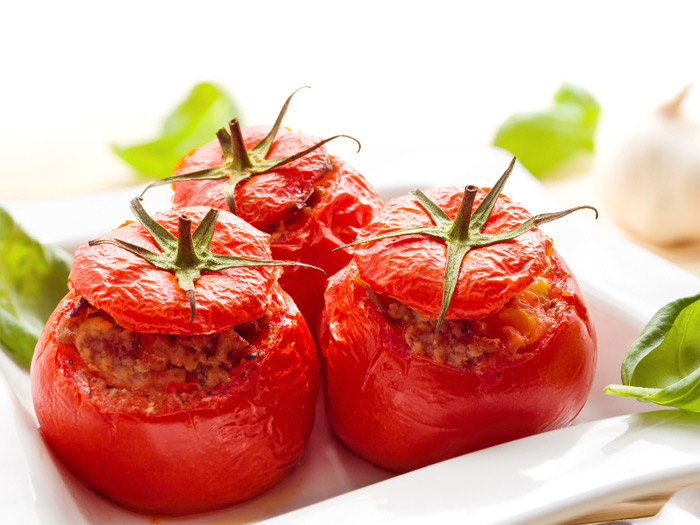 Ingredients:
8

firm and ripe tomatoes

4 oz

ground beef, substitute ground turkey if desired

1

chopped onion

2 Tbsp

olive oil
salt
black pepper

1

clove minced garlic

3 Tbsp

Egyptian or short grain white rice

⅓ cup

water

¼ cup

minced fresh mint

½ cup

tomato juice or 1 tbsp tomato paste disolved in ½ cup hot water
Directions:
Preheat oven to 350 Degrees F (180 degrees C). Cut off and put aside the tops of the tomatoes. Remove pulp with a spoon and save for later. Turn tomatoes upside down on paper towel so they can drain.
Saute the onion in the the olive oil in a small pan. Add the garlic and ground beef and sprinkle the salt and pepper. Saute until meat is no longer pink before adding tomato pulp, rice, water and a dash of salt. Cover and simmer for 15 minutes befire stirring in mint leaves.
Sprinkle the inside of the hollowed tomatoes with salt and pepper before filling it with the rice mixture. Spoon the tomato juice or paste (disolved in hot water) onto the tomatoes before covering with them with their tops.
Spray the baking dish with cooking spray. Add a few Tbsp of water in the bottom of the baking dish. Carefully place each tomato into the baking dish and loosely cover with foil. Bake for 30 minutes.
Remove stuffed tomatoes from oven and let cool. You can serve this with extra tomato sauce on the side and with good bread and a green salad. Enjoy!