Gazpacho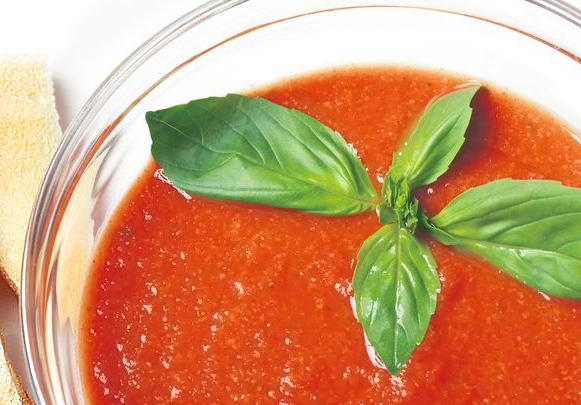 If the summer is in full swing, time to cook Gazpacho. This cold vegetable soup comes from sunny Andalusia. Gazpacho is one of the best known Spanish dishes. It perfectly refreshes in a hot summer day. Here is an easy Gazpacho Soup recipe:
Ingredients:
7-8

ripe tomatoes (700-800 gr), peeled and chopped

1

medium cucumber, peeled, seeded, chopped

1

sweet red bell pepper, seeded and chopped

1

sweet green bell pepper, seeded and chopped

1-2

clove garlic, minced

1

tbsp. red wine vinegar or freshly squeezed lemon juice

1

teaspoon tomato paste

1

tbsp. olive oil
salt and fresh ground pepper to taste
cooled boiled water
greens, finely chopped

3-4

slices of bread for toast, or white bread (optional)
Total time: 15 minutes
Yield: Serves 8
Method:
Wash vegetables and peel the peppers, remove the seeds. Put aside 1-2 tomatoes, 1/3 cucumber and bell peppers.
Peel the rest of the tomatoes. To do this, skin the large tomatoes: make a crosswise incision on the tops, plunge into boiling water for a few seconds, drain and pull off the skin.
Cut peeled tomatoes into 4 pieces. Peel rest of the cucumber, garlic. Dice the cucumber and bell peppers. Put vegetables in a blender bowl.
Mix the vegetables, garlic in the bowl of a food processor or blender. Add the olive oil, vinegar or lemon juice and tomato paste, salt and pepper to taste. Blend the components in mixture until smooth. If the soup is too thick, add cooled boiled water to your taste.
Pass the purée through a fine metal sieve, pouring it in a deep bowl.
Dice vegetables and mix.
Leave a half of the chopped vegetables for decoration, and add the rest into the vegetable puree. Mix the puree again and taste. Add salt, oil, vinegar, pepper or water to your taste. It should not be thin, should have a strong flavor. Refrigerate the Gazpacho soup until well chilled (you can add ice, instead).
Dice the toast or white bread.
Fry the diced bread in olive oil.
Before serving, decorate each chilled gazpacho bowl with sliced vegetables and chopped greens. Fried bread served separately, to add it into the dish to your own taste. You can serve the Gazpacho with garnishes of your choice: diced black or green olives, hard-boiled egg, cubes of ham. Greens like mint, oregano, parsley, spring onion also work well.
Enjoy the Gazpacho!
Thanks to Tanya and Natalia for this recipe!