French Press Coffee Maker Review
After some consideration I decided to write down and present my thoughts on French press coffee makers. The review comes from French press noob — have that in mind people.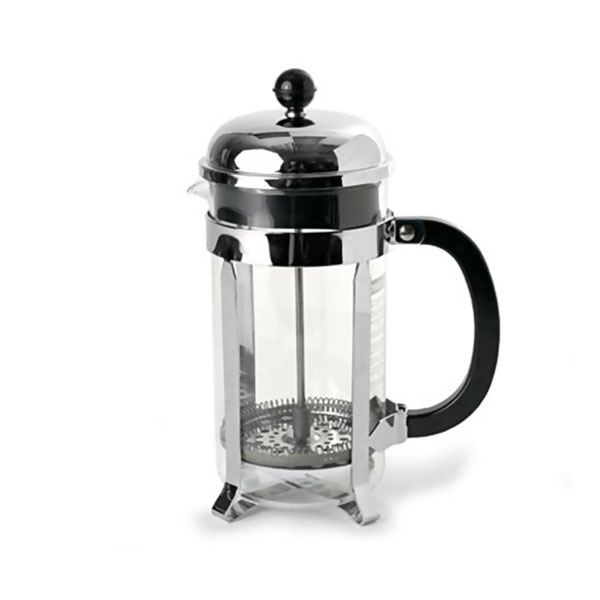 To some the idea of using a French press coffee maker is a little too precious, bordering on snobbishness. I m or better I was also one of them until several hours ago.
Tonight I decided to "just do it" and bought myself this Bodum French press. Now I should warn you readers that it's generally NOT a great concept to brewer coffee in your shiny new French press when you just came home and the clock shows 10:30pm. There are two reasons for that:
First the coffee in French press maker is really strong and perhaps you will have hard time to go and get some sleep after you consume a cup or two of this great coffee. Despite being a daily coffee drinker I have to say that just one cup from the French press knocked me to the stratosphere, and that alone is worth giving this French press brewer five stars.
The second reason is that after brewing is over, you still need to clean everything up.
Remember it is not single serve coffee brewer like one of Keurig machines where you can just toss away the used k cup after the brewing process has finished, no here you actually have to clean the brewer. But it is not such a big deal. So anybody can do it.
The unit itself is pretty sturdy, and appears lovely and produces the greatest coffee I've ever had at home, and it really rivals or surpasses coffee I've had at espresso or coffee houses. French press coffee is really a great alternative to using single cup automated drip makers.
Being single, I've gone via my share of single cup coffee makers, and the coffee they make always seems about ten times worse than the coffee from a normal-sized drip maker.
If you like to create a big pot of coffee and drink it all through the morning, I would suggest buying a good quality carafe or thermos to keep the coffee warm.
Pros and Cons
Pros of my French press brewer:
Best tasting coffee you'll ever have at home.
Strong, full bodied flavor.
Pretty easy to prepare.
Impress your friends together with your snobby European coffee-making methods :) (Appears great on your counter as well).
Great for making small quantities of coffee, for one or two individuals.
Priced about exactly the same like a ho-hum auto drip coffee maker without any extra bells and whistles, yet can make coffee a million times better.
Cons of French press brewer:
8-cup capacity is dependent on a 4 ounces beverage size. Not really a "con" but something you ought to be conscious of. If you have many friends over, it may get a little tedious to be continuously producing a fresh pot of coffee.
More cleanup than using an automatic drip maker.
No heating element to maintain espresso warm. Use a thermos/carafe if you want to sip a number of cups over several hours.
Some additional remarks
Coarsely ground coffee is suggested. This is no problem for individuals that already purchase whole bean and grind them themselves, but it will be an extra action for some individuals.
I recommend selecting up an Aerolatte milk frother if you would like to make truly effortless cappuccino. I discovered that there's plenty of time to heat some milk in the microwave and froth it up while the espresso brews for like 4 minutes.
A $20 Aero latté milk frother + $24 French press = coffeehouse espresso at home, whenever you would like it. That's really a tiny expense for coffeehouse high quality coffee.
To all coffee drinkers out there, go and buy a French press just to see how the coffee should really taste like.
by Hans (NY).