French Onion Soup
Soupe à l'oignon.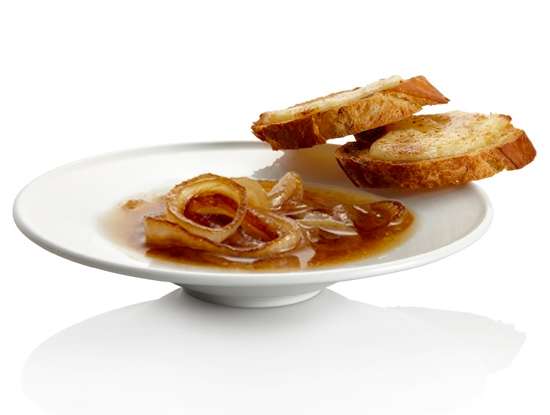 Ingredients:
500 g

onions

50 g

butter or margarine

750 ml

meat stock

125 ml

white wine
salt
freshly ground white pepper

2 slices

white bread

30 g

butter

50 g

Parmesan cheese
Method:
Peel the onions, cut them in half and slice them finely.
Melt the butter in a saucepan and sauté the onions. Add the meat stock and bring to the boil.
After a while add the white wine and season with salt and pepper.
Cut the white bread into cubes and fry in 30 g butter until golden brown. Pour the onion soup into 6 cups and garnish with the bread cubes.
Grate the Parmesan cheese medium-fine with a grater or a food processor and sprinkle over the soup.
Put the soup bowls under the grill until the cheese has melted and serve immediately.