Couscous, mozzarella and tomato salad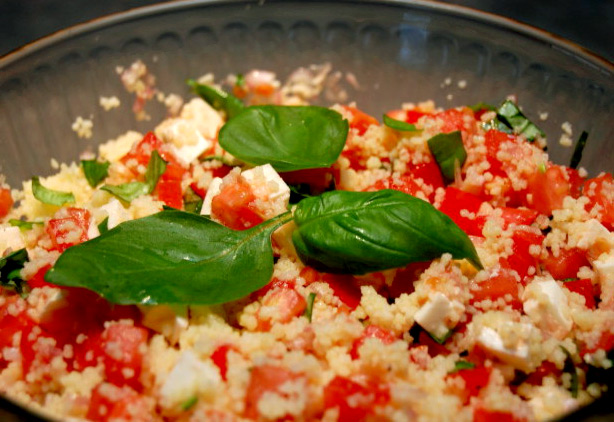 Simple salad with fresh tomatoes, basil and mozzarella. You can make it for a BBQ, keep in the refrigerator to cool, and enjoy cold salad.
Ingredients
2

cups diced tomatoes

¾ cup

diced fresh mozzarella cheese

3

tablespoons minced shallots

3

teaspoons extra virgin olive oil

½

teaspoon lemon juice

or ½

teaspoon balsamic vinegar

½

teaspoon salt, to taste

¼

teaspoon fresh ground black pepper

or ¼

teaspoon tricolor pepper, to taste

1

garlic clove, crushed and minced

1 ¼

cups water

1

cup uncooked couscous

¼

cup chopped fresh basil
basil leaves, for garnish
Servings: 5
Directions
First, take large size bowl and combine in this bowl, salt, pepper, garlic, along with tomato, mozzarella, lemon juice, olive oil and shallots.
Then toss properly and then keep in refrigerator for marinating for thirty mins, covered.
Then take a saucepan, and heat water to boiling in it, then take couscous and mix in.
Then remove from stove and keep aside for five mins, covered.
Then fluff the couscous and allow to cool.
Take chopped basil along with cooled couscous and add them both to tomato mixture in bowl and then toss properly.
Use whole basil leaves for garnish.