Bouillabaisse
The Marseilles Bouillabaisse (Bouillabaisse Marseillaise) is a dish whose development asks for a variety of fish. It is their particular taste which makes renimée of this dish, which should be to compose only of elements of first choice.
Fish:
The Marseilles Bouillabaisse will have to include at least 4 species among the following ones:
Rascasse
White Rascasse
Spider (lives)
Galinette (gurnard)
Holy Pierre
Angler (burbot)
Fielas (conger)
Capon (scorpene)
Optional: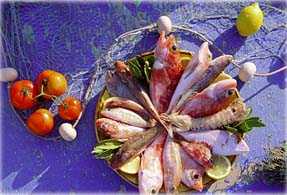 Ingredients
4 kg

of fish (depending arrival) and 1 kg of fish for the stock.
The other ingredients which concurrent with the preparation of this speciality are in particular:
Potatoes
Tomatoes
Salt
Pepper
Saffron
Olive oil
Garlic
Onion
Fennel
Parsley
The Bouillabaisse is also accompanied by a traditional sauce: Rust.
Directions
Brown the oinion, the garlic and the tomatoes in the olive oil over a brisk heat. Add the fish, cleaned and cut into pieces and stir still thickened.
Pour in the boiling water and leave to boil for about 30 minutes.
Add the fennel, salt and pepper. Press through a moulinette and then through a conical strainer, not forgetting to press the bottom to drain all the liquid.
Add the raw, thickly sliced potatoes to the stock (two slices per person), then add the fish depending on their size and firmness (scorpion fish, John Dory, conger, monkfish) and allow to boil for 20 minutes.
After cooking remove fish and potatoes, then add salt, pepper and safran and place them in serving dishes.
The Rust
The traditional recipe is accompanied with garlic mayonnaise to which saffron is added.